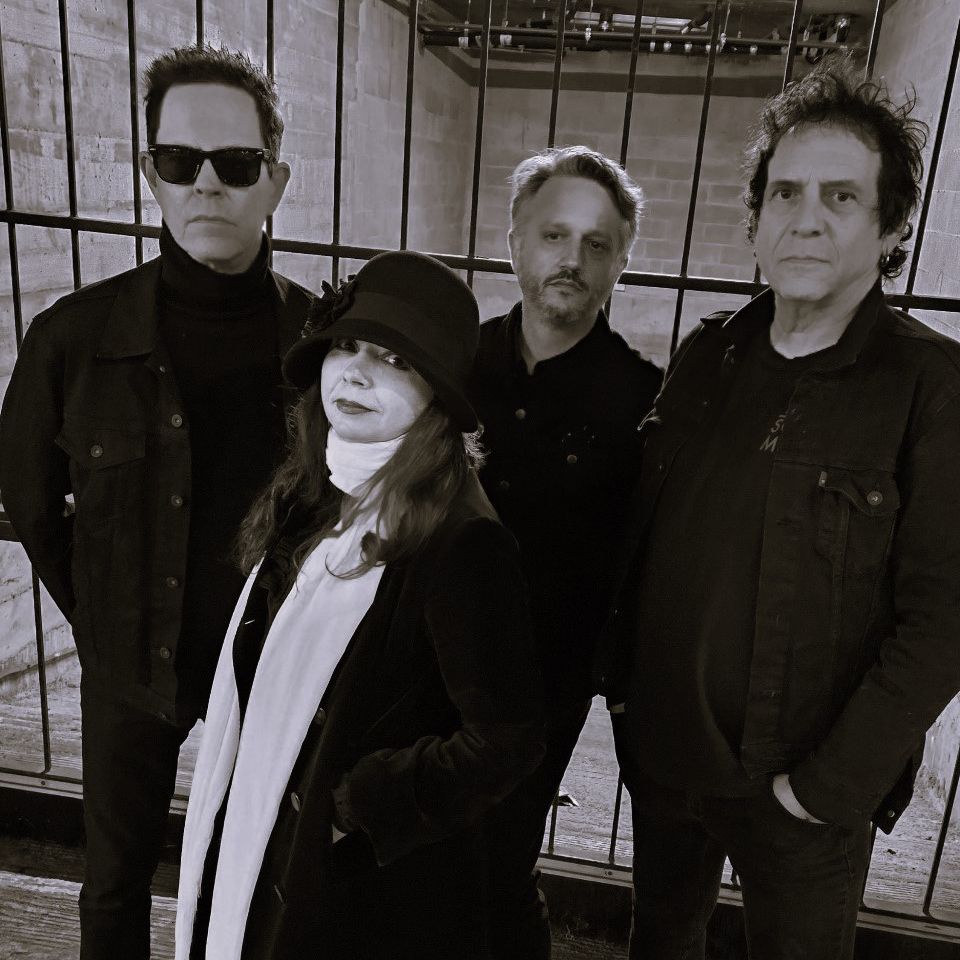 Biography
Octavian Winters was born into the ghostly isolation of San Francisco in 2022, during the third winter of the pandemic. Stephan Salit (guitar), Randy Gzebb (drums), Jay Denton (bass) and Ria Aursjoen (vocals, keyboards) together weave their visceral and ethereal sound into a texture all its own – of stories once told but half-remembered, under a dusk of shadows and stars, in an abandoned city under the winter moon.
The story of Octavian Winters begins in late 2021. Gzebb and Salit, former bandmates from Thrill of The Pull, had been offered a film/television publishing deal for Thrill's catalog. They met to discuss the details (a four-year licensing deal has since been finalized with Expressive Artists). They sat down for a jam afterwards, catching up on the old days. Within hours the two had come up with several motifs. Feeling inspired, they met again several times over the next weeks and continued to explore.
Gzebb had met Aursjoen via a studio project the previous year, and in early 2022 invited her to a session. She was immediately taken with the rough ideas Gzebb and Salit had come up with. The three musicians began to improvise together and found musical chemistry quickly. Gzebb brought in bass player Denton, with whom he had played in a prior project, to round out the line up, and Octavian Winters was born. Between the ideas already generated initially by Gzebb and Salit, those that emerged from ensemble's jam sessions, and those brought in by Aursjoen, the project now had more than enough grist to start the musical mill and the four began working together on the pieces that most stood out.
A vital choice was made at this point: the band decided to complete the songs first as a recording project, since at the time most live venues were either closed or operating at limited capacity.
"It was a very different process from the usual trajectory a band takes," says Aursjoen. "Instead of developing the songs in a live format, and then translating them to the recording studio, we started the other way around. It was a different and freeing experience."
Gzebb states, "It gave us the chance to really focus on composition and fully flesh out the song ideas."
Demos of the first several songs were recorded, and the band started the search for the right producer. William Faith (Faith and the Muse, The March Violets and The Bellwether Syndicate) was a top choice, and Faith approached the project with great enthusiasm. The first track mixed was Ondine, a song that draws from a mythical tragedy of love for a sea nymph, and the search ever after for her after she returns to the sea. Faith's production was spacious, sparkling and layered, evoking praise and recognition worldwide following the band's self-release of the video in March 2023. The success of Ondine, on a completely organic basis and without any formal publicity or backing, truly cemented the band's relationship with Faith and confirmed that he was the perfect choice to produce the remaining songs. The full release, entitled The Line or Curve, is out now via Stratis Capta Records.
Ria (Amenti) Aursjoen has recorded and performed in the UK and US as a solo and ensemble performer, in genres widely ranging from Celtic folk to progressive metal and darkwave. Aursjoen began playing piano by ear at age three. She loved emulating her opera diva grandmother, Lillian, and found herself frequently in trouble in elementary school for disrupting class by "singing to herself too much" (according to the teacher). Aursjoen has synesthesia, a rare neurodiverse condition in which the senses overlap; she experiences sound as visual structures, colours and textures.
"I used to get in trouble with my music teachers because I insisted on drawing out the music as a sort of weird architecture rather than in standard notation," she quips. "It seemed a much more reasonable way to represent music to me at the time, but it was only when I was older that I understood that it made no sense to anyone else around me."
She left her graduate work in theoretical physics to pursue music and toured as a Celtic harpist and vocalist for several years before making her home in San Francisco. Because of how she experiences sound, Aursjoen has always been interested in creating music that is richly layered and highly spacious.
Randy Gzebb was raised in Canada. Gzebb was always drawn to alternative and darkwave musical genres, and that provided him with an early sonic template for a career in the music world. Growing up as the eldest of four siblings, Gzebb's interest in music was stoked by two elder cousins who were having some success in the music business. Interest became an obsession, and Gzebb had five months a year of brutal winter to listen to new music and hone his drum skills in his basement home in Canada. Gzebb moved to California at a young age and immediately started playing the local scenes in San Francisco and Los Angeles. He was a member of Love Club, who were signed by Sandy Pearlman (The Clash and The Dictators) and released on MCA records, produced by Bill Buchanan (Fields Of The Nephilim, Red Lorry Yellow Lorry, The Leather Nun).
Stephan Salit, a Taurus and self-trained musician, was given a talisman by an old gypsy priestess and crossed into the world of magic and music early in life. He hit the ground running at age 13 and has since recorded and performed with a wide variety of groups including Specimen. Salit considers performing live his sacred space. He approaches each song as a canvas that calls for colour and depth; he views his playing as painting with sound.
"I live to create and conjure sonic landscapes that are ever evolving; the past doesn't exist, and the future is unwritten," says Salit. "There is only now and now is the time of Octavian Winters."
Jay Denton is a Bay Area native, and although no records survive, he claims to have been born at the Stanford hospital for the criminally insane. Later he spent some time on the road with Jack Kerouac and the merry pranksters but denies being at Woodstock. Jay developed a love for musical instruments at an early age starting with strings, bells, and drums, and moved onto trumpet / French horn and baritone. He learned classical forms and orchestral bass lines by Bach and Mozart, performing solo and duet pieces from classical and contemporary composers and finding his voice on the string bass and electric bass playing in jazz and rock bands. He played extensively with the house band at San Francisco's famous Condor strip club, which increased his love for supporting melody and artistic forms of movement. Jay has toured in London, Japan and across the United States. Jay attributes his love of music to his early exposure to classical, jazz and rock.
Jay is excited for this new project; he says, "Octavian Winters is the most creative and beautiful project I've ever worked on, and I can't wait for what we will write and do next."